Be Covid-19 Ready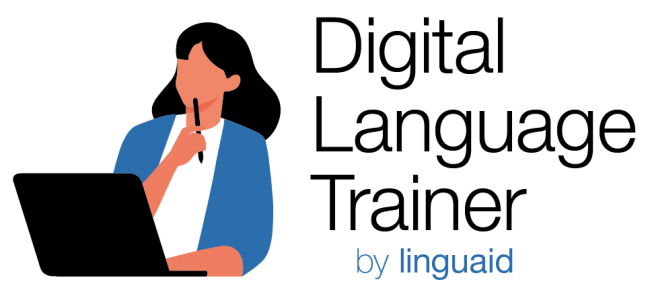 Follow this unique course designed by three specialists to make your video conference English classes as good as your face-to-face classes

View programme


Scroll for more details


Sign Up for the Course

What's in the course?
100% online to suit the busy language teacher's schedule
This course has been designed for English trainers that teach English to adult learners
Learn by yourself at your own pace, or get personalised coaching from our specialists

Financing available (in France)

Teachers in France can get this course financed (it only costs 420 euros) through FNE Formation, FIFPL, OPCOs, etc.
6 modules of language-specific content
10 hours of online exercises + optional 5 hours of group coaching
Modules 1 & 2: Using digital tools for language training
Help with video conferencing (multiplatform), tools, techniques, teaching beginners and large groups and more
Modules 3 & 4: Online training techniques
Learning and training strategies, learner motivation, problem solving and more
Modules 5 & 6: Evaluation and exam preparation
Level testing, exam prep (TOEIC, Linguaskill, BEST, Pipplet, Bright, LevelTel)
What participants are saying about the course
Dear Joss,
Thank you, Richard, Ian and Louise for an excellent course, which I thoroughly enjoyed, and which I know will continue to enrich – it already has – my teaching, training and coaching.
Kind regards, Russell
Hello Joss,
I would like to thank you for the course which was useful and informative and helpful for the future. It was good to finish this afternoon with Louise who rounded things off in a more personal way – we were able to exchange on the future of language training and what it might mean for us. Once again many thanks. Your team are doing a great job!
Susan Hawkins
Hello All,
Now that the course has come to an end I just wanted to say a quick thanks for all the videos and coaching sessions. I've learned a lot about tools, people, tests…… and will learn even more when I have time to go back over the material you have passed on to us.
I hope to follow more training with you in the future as the situation around us evolves.
Have a lovely weekend,
Kind regards, Susan Potron
Dear Joss,
Thank you very much for the certificate. I really enjoyed the course and am now using Zoom for my lessons with no problems – I just need to get to grips with being more organised on my computer. Richard has definitely pointed me in the right direction for that.
I'd also be interested in new courses you may offer!
All the best for the future.
Regards,
Janet
FAQ
Answers to your questions
Is Digital Language Trainer only for English teachers?
The course content (videos, quizzes, activities) are in English. The online tests in Module 5 are all English tests, except for Pipplet. The principles and skills being taught in the programme are applicable to any language. A French translation of the course content will soon be available.
I'm an independent trainer, is it right for me?
Absolutely. If you're based in France, you can use your FIFPL to finance the course and you can slot right into one of your public coaching courses. Check your eligibility for financing by downloading your "Attestation de contribution à la formation professionnelle" from the URSSAF website. Click here for the order form and planning.
I run a language school, how many trainers can I train?
As many as you want! We will set up in-house coaching sessions to go alongside the online automatic content. Groups must have minimum 6 participants.
180 euros including tax per trainer for the self-study training course, 420 euros including tax per trainer for the same course with 5 hours of coaching.
You need to sign-up first! Please fill in the order form and let us know which of our upcoming sessions would suit you best.
Can I use FNE Formation to finance this course?
Of course! Click here to read our procedure (in French).
Please click here to consult a more detailed description of this course by viewing or downloading our course programme.
Can I access specific content?
No, you must follow the whole course. However, please contact us to talk about our tailor-made, personalised training courses and individual coaching.
Do I need to be good with computers to take this course?
This course is designed for teachers who are able to use a desktop, laptop or tablet computer for the basics (browsing the internet, calling using Skype or another video conferencing software, making and editing Word documents). You don't need to be already familiar with any of the digital tools advertised in the course.
How much teaching experience do I need to have to take this course?
Some of the lessons assume you have a basic knowledge and experience of language teaching techniques. We recommend that you've already been teaching English or your chosen language for at least a year full time, or several years part time.
Is this course only for teachers who work online?
Not at all. Most of the modules apply as much to classroom teaching as they do to online teaching. We assume teachers will be conducting a mix of classroom lessons and video conference lessons.
What if I miss a coaching session, or an online lesson?
The coaching sessions are recorded and uploaded, so if you miss one you can simply watch the replay at your convenience. The online lessons can be accessed and re-accessed at any time, for life.